R. Dylan Morris, DO
Spine Surgery & General Orthopaedics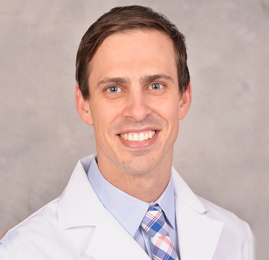 R. Dylan Morris, DO
Dr. R. Dylan Morris is a board eligible Orthopaedic Surgeon who specializes in spinal surgery. He received his medical degree from Oklahoma State University College of Osteopathic Medicine and completed his residency in orthopaedic surgery at Oklahoma State University Medical Center in Tulsa, Oklahoma. He went on to complete a fellowship in Orthopaedic spine Surgery at SUNY Upstate Medical University in Syracuse, New York.
Dr. Morris is excited to be joining Kansas Orthopaedic Center where he will focus on diagnosing spinal disorders along with both operative and non-operative treatment. He uses advanced surgical techniques to treat neck pain, back pain, arm pain, leg pain, spinal tumors, deformity, and spinal trauma.
Dr. Morris brings with him a special interest in cervical disc replacement. He is looking forward to making Wichita his new home.
He is a member of the American Academy of Orthopaedic Surgeons, North American Spine Society, Kansas Medical Society, and the Medical Society of Sedgwick County.
---
Testimonials