Jefferson W. Jex, M.D.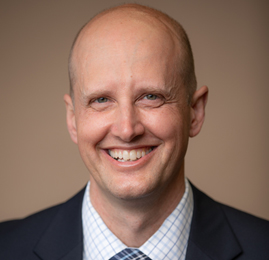 Jefferson W. Jex, M.D.
Dr. Jefferson Jex is a board-certified pediatric Orthopaedic Surgeon. He earned his medical degree from the Uniformed Services University of Health Sciences in Bethesda, Maryland. He completed his five-year residency training in orthopaedic surgery at Brooke Army Medical Center in San Antonio, Texas. He received fellowship training in pediatric orthopaedic surgery at Children's Hospital in Denver, Colorado. He is a military veteran and was promoted to the rank of Colonel in the United States Army. Prior to joining Kansas Orthopaedic Center, he served as the chief of Spine and Pediatric Orthopaedic Surgery at Walter Reed National Military Medical Center.
Dr. Jex specializes in all aspects of pediatric orthopaedics, including sports injuries, spinal deformity, scoliosis, clubfeet, hip dysplasia, limb alignment, and length differences as well as congenital hand and foot conditions.
He believes that it is through teamwork that the best patient outcomes occur. He educates parents and together they weigh treatment options in order to provide the greatest benefit for the child. His friendly smile and engaging demeanor put parents and children at ease.
Outside of work, his favorite activities include pottery, skiing, gardening, outdoor cooking, hunting and fishing. He enjoys spending his spare time with his family and friends.
He is a fellow of the American Academy of Orthopaedic Surgery, a member of the Pediatric Orthopaedic Society of North America, the Society of Military Orthopaedic Surgeons, and the Medical Society of Sedgwick County.
---
Testimonials