Matthew Hollenbeck, M.D.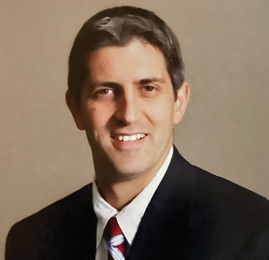 Matthew Hollenbeck, M.D.
Dr. S. Matt Hollenbeck is a board certified pediatric Orthopaedic Surgeon specializing in all aspects of pediatric orthopaedic surgery including spine and scoliosis. After earning an undergraduate degree in biology and master's degree in physical therapy from Rockhurst University in Kansas City, Missouri, he worked as a Physical Therapist for four years prior to attending medical school. He attended the University of Kansas School of Medicine and completed his five-year residency in orthopaedic surgery, focusing on general orthopaedic surgery, at Greenville Health Systems, in Greenville, South Carolina. In addition, Dr. Hollenbeck has completed a pediatric orthopaedic and scoliosis fellowship at the esteemed Rady Children's Hospital in San Diego, CA, ranked #3 in the nation during his fellowship by U.S. News & World Report.
Having fun and making each visit enjoyable, whether in the office or operating room, are of utmost importance. His fun attitude and focus on strong patient-physician relationships is evident with every interaction. Dr. Hollenbeck feels that understanding, cooperation, and communication are essential in obtaining the best possible outcome for each patient. Dr. Hollenbeck's deep Midwestern roots coupled along with the fact that he is also a parent of three children, including a son with Down syndrome, shows his strong commitment to all orthopaedic patients, especially children.
Dr. Hollenbeck is a member of the Pediatric Orthopaedic Society of North America and the American Academy of Orthopaedic Surgeons.
---
Testimonials